Highlights
No State Income Tax
Real estate taxes are considered to be the lowest in the Nation
Hub of 14-county Upper Cumberland region of about 317,000 citizens.
Award-winning leisure services.
Minutes from top-rated golf courses, lakes, rivers, hiking, championship fishing, hunting, and an amazing variety of sports (including Tennessee Tech Athletics) and other activities.
22 State Parks in Middle Tennessee & home to the Great Smoky Mountains & Big South Fork National Parks.
Located between a "Magic Triangle of Lakes" Dale Hollow, Center Hill, and Watt's Bar.
Home to Tennessee Technological University, which consistently ranks among best universities in academics and value.
Health care that is anchored by Cookeville Regional Medical Center, which is one of the nation's top performance improvement leader hospitals and one of only 100 hospitals in the U.S. to make the greatest progress in improving hospital-wide performance over five years.
Location
Atop the Cumberland Plateau, both Crossville & Cookeville average being about an hour from Nashville, Knoxville, & Chattanooga
Served directly with several exits off I-40
Around 3 hours to Atlanta, GA, Louisville, KY, and Asheville, NC
Within a days drive to 75% of the Nation's population
Climate
A true four seasons without having to endure long periods of freezing and hot humid summers

Avg. High: January 39°   July 82°
Avg. Low:  January 21°  July 64°
Acknowledgements & Awards
A "Where to Retire" community.
A Tennessee Top 10 upscale retirement community.
A national Main Street community.
A Tennessee 3-Star community.
A "Most Affordable" community.
Information from the Cookeville Chamber of Commerce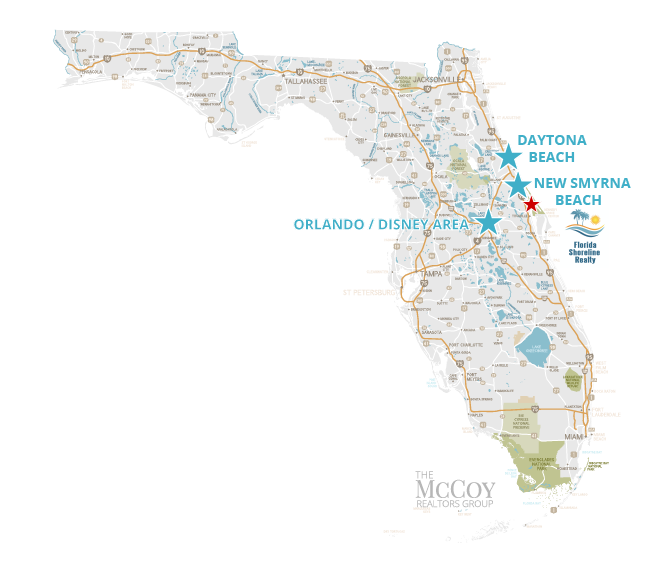 Central Florida
Why Buy New Smyrna Beach?
Location
Nestled along the Atlantic Coast and Intracoastal Waterway

Distances to:

Orlando, FL – Just over 1 hour
Jacksonville, FL – Just under 2 hours
Miami, FL – Just under 4 hours
Atlanta, GA – 6.5 hours
Nashville, TN – Just over 10 hours
CLIMATE
Avg. Annual Temperature – 71°
Avg. Summer Temperature – 80's
Avg. Winter Temperature – 70's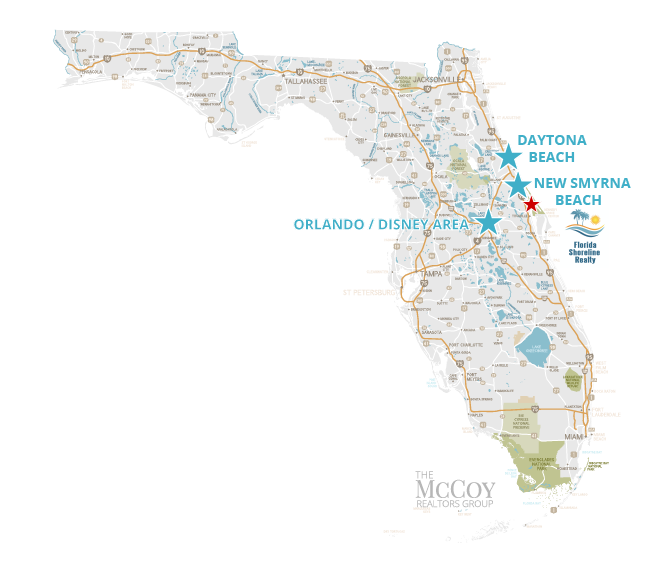 Highlights
The feel of "Old Florida" with a small-town atmosphere

Features 13 miles of pristine coastline, perfect for relaxing on the beach, boating, fishing, & surfing.

New Smyrna Beach features 25 golf courses within a 30 mile radius.
NSB is home to the New Smyrna Speedway, a half-mile paved oval track and Nascar's Daytona International Speedway, the third largest single-lit outdoor sports facility and venue to the Country 500, the Richard Petty Driving Experience, Daytona Supercross, and the Daytona 500.
NASA's Kennedy Space Center is known as the nation's gateway to exploring, discovering and understanding our universe.
Blue Springs State Park covers over 2,600 acres and features the largest spring on the St. Johns River. The park is a popular tourist destination; available activities include canoeing, SCUBA diving, kayaking, fishing, camping, hiking, wildlife watching, and swimming.
Home to "driving on the beach", where beachgoers can enjoy a leisurely drive on the wide, hard-packed sands.
Jackie Robinson Ballpark

is a minor league baseball stadium which served as host to the first racially integrated game in baseball history.

Johns River, famed for its bass fishing, links magnificent parks with wildlife preserves.
New Smyrna Beach is home to many art galleries, including the Atlantic Center for the Arts. The arts have a permanent home in New Smyrna Beach helping it gain the distinction of being included in the book, "The 100 Best Small Art Towns in America: Where to Discover Creative Communities, Fresh Air, and Affordable Living" by John Villani.
Acknowledgements & Awards
New Smyrna Beach Named One of World's "Top Surf Towns"

New Smyrna Beach Named a "Top 10 Best Beach Town in Florida"
Information from the South Volusia Chamber of Commerce